It's fall you guys! Sacramento has finally found fall and I couldn't be happier to box up my summer clothes and bring out my ever growing scarf collection. I've been especially waiting for this because I refuse to do certain things until the season is juuust right. Inherintly "fall" things just feel wrong when it's still so hot outside (I'm looking at you, Target Halloween decorations in 100º September weather).
Cardigan (Target - similar), jeans (Abercrombie), shoes (Target) and jacket (AE - similar)
Sunday, Ryan and I went to Apple Hill, a magical place up in the foothills about an hour west of Sacramento. It's exactly what it sounds like: Apple orchards everywhere, with a healthy dose of wineries sprinkled throughout for fun. We visited the two big ranches, where there were a bunch of craft/woodwork tables, fishing, face painting,
fudge
, the works. I picked up some apple butter and a bunch of granny smiths in order to make me some apple pie. Now my grandma could make a delicious meal out of table scraps, but apple pie is the one thing she cannot master. This is my chance to best her at something in the kitchen.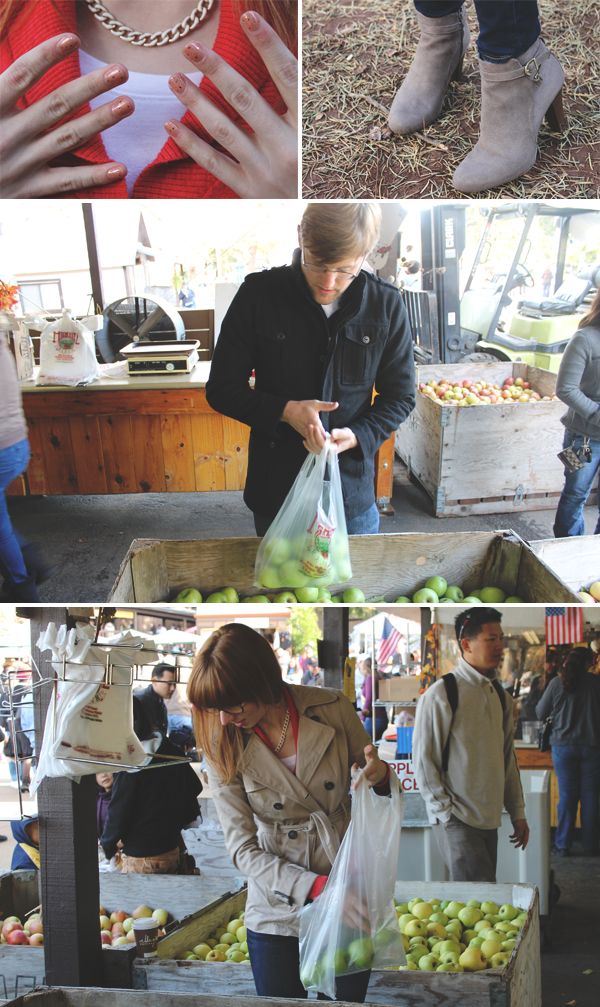 Going back home, we pit stopped at two wineries for some tastings. Most tastings in this area are either free or very very inexpensive, which is a great alternative for people like me who can't just drop a bunch of money to take a couple sips in Napa. Also, apple donuts. Ugh.
Ending the day with sunsets and mean mugging silhouettes. Hope your weekend was just as fun!