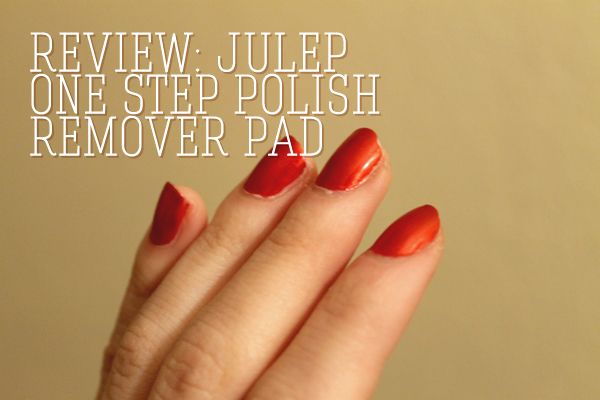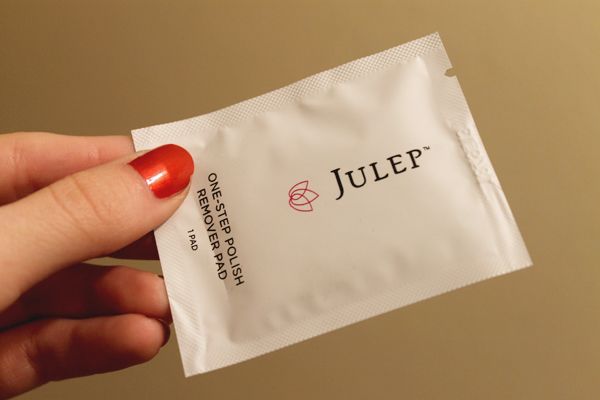 Hello, ladies! I'm going to review something for you today! Aren't you excited?! Well, you better be, because I'm super excited to brag about what I've got for you today.
My November Julep Maven box came with several
One Step Polish Remover Pads
, and of course I shoved them to the side because
get out of my way there is nail polish
. But today I found myself in need of stripping my nails and I figured, "Hey! What a perfect time to try this out." As you can see, the pad comes in individual packets, super thin and compact. They're ideal for slipping into your purse or glove compartment. On the back, it reads:
Each no-mess, lint-free pad is infused with aloe vera to moisturize and condition your nails. Open packet. Apply pad to nail for a few seconds. Gently wipe off polish. SHINE ON.
Time to put it to the test. On my nails, Essie base coat, 2 coats of OPI's Die Another Day from their current Skyfall collection (isn't it gorge?), and my Seche Vite top coat.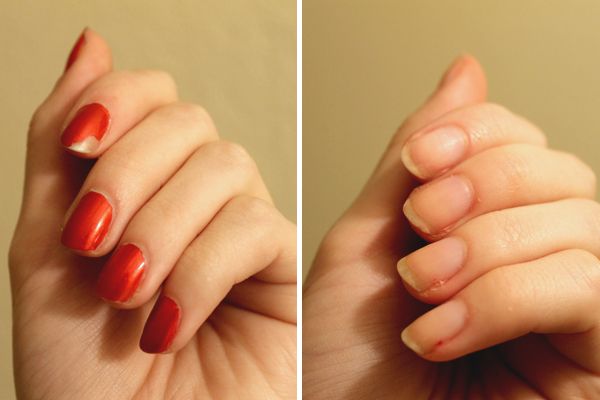 This took my polish off with ease, which was very impressive considering the layers of red I had on. On top of that, I felt like my nails really were moisturized from this pad. My current remover dries out my nails and leaves them feeling unhealthy. Not with this! I was so excited to take off the polish on my right hand, when...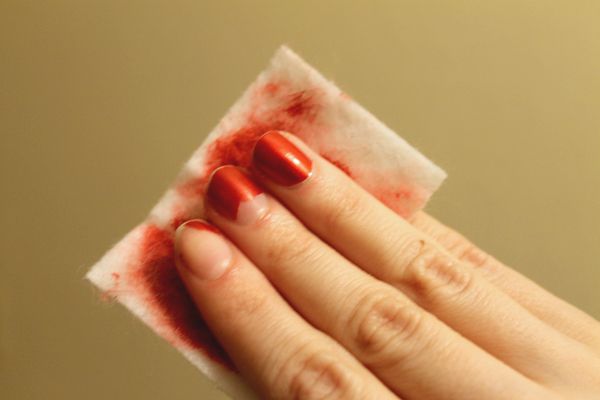 It dried up! I got through my thumb and pinky, but that's when it just couldn't wipe any more. I was pretty bummed, as I was really hoping it would only take one wipe for everything. I didn't really want to open another wipe for a little over two nails, so I began to remove the rest with my normal remover.
Bad idea! My normal remover immediately started staining my finger, and my nails were a definite pink compared to the nails I used the Julep remover on. I couldn't believe how clean the Julep worked in comparison, but see for yourself:
So I caved and opened a second packet to remove the rest. My remover is on the left, the Julep is on the right. Night and day difference! So what's the breakdown?
Ingredients:
Acetone, Water, Aloe Barbadensis Leaf Juice, PEG-75, Lanolin.
Pros:
- Perfect for travel, on-the-go beauty touch ups.
- Very effective!
- Gentle on the nail.
- My nails don't smell like remover for the next 10 minutes.
Cons:
- Had to use two pads. The second pad didn't get a lot of use so it felt kinda wasted.
Overall, I would totally recommend this, just for the convenience alone! And I guess the fact that it's actually good at what is says it does doesn't hurt either.
Disclaimer: I wrote this review on my own accord, with products I received from my paid Julep Maven subscription. All the opinions are my own and done just because I enjoyed it.