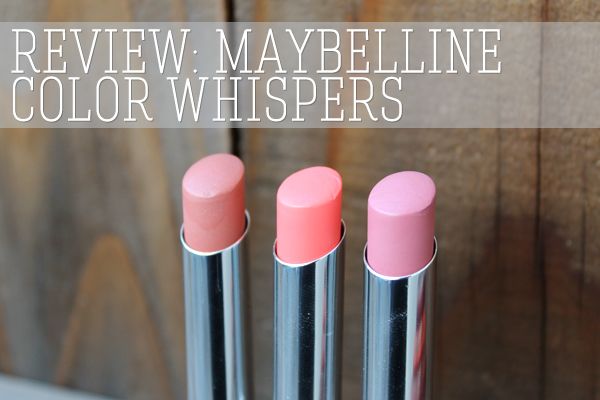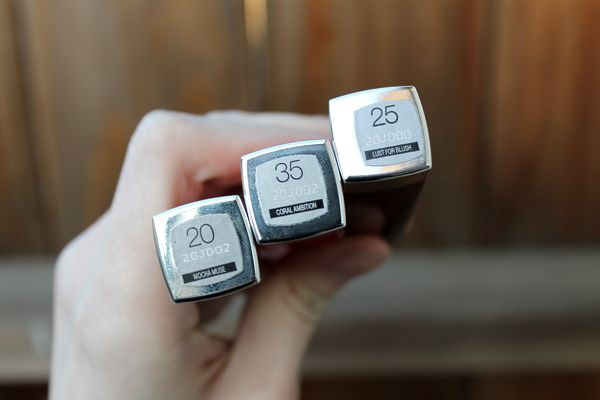 (all photos from left to right: mocha muse, coral ambition, lust for blush)
I've been eyeing Maybelline's new line of Color Whisper lipsticks since they launched, but I held off because I was in my "don't spend any money" month for January. But you can bet as soon as February hit, I snatched up Coral Ambition at Target, and the next two were added to my collection a couple of days ago. I've just gotta gush a little bit because I'm really, really enjoying them. If you're looking for a little review, here's what I've got:
Color options:
This collection has 20 different shades, with a good selection of nudes, pinks, berries and reds.
Opacity:
You get a good solid color with these. They're comparable to the Revlon lip butters, which I also have and love.
Long lasting:
Personally I keep the one I'm wearing in my purse, because it will fade after a while. I do like that it stains your lip a bit so you'll still have the color, but to keep the moisture you'll need to reapply because they're not super hydrating.
Overall:
I freaking love these things. They're perfect for someone like me who doesn't want a heavy lipstick. The packaging is cute and the lip stays on tight so you don't have to worry about it being slung around your bag all day. I would say if you like the Revlon lip butters or kissable balm stains, this is something you might wanna give a try!
Price:
$5.99 at Target, but currently on sale for $5.49. You can print a coupon from target.com for an additional dollar off Maybelline products as well, so really $4.49 if you shop smart!
Disclaimer: I wrote this review on my own accord, with products I purchased on my own. All the opinions are my own and done just because I enjoyed it.