Disclaimer:
I wrote this blog post back in July. Things have happened, and this isn't getting posted until January. I'll explain later. For now, just go with me on this and let's take a little trip back in time when you read this, okay? Thanks, carry on!
I've been patiently waiting for the Rimmel Show Off Lip Lacquers to make in over to the US since I first saw all my favorite UK beauty bloggers talking about it. Oh sorry, did I say talking? I mean
raving
. In the UK they're called the ApocaLIPS (seriously, a way better name), so you'll have better luck searching that in google if you want to look into these further. It seems like Rimmel brought it with these guys, so when word got out that Walgreens had started carrying them, you can bet I was there. Here's what Rimmel has to say about it:
"The earth-shattering lip lacquer from Rimmel London combining the intense color of lipstick with a lacquer like shine, Show Off Lip Lacquer is an explosive make-up phenomenon that represents the end of color as you know it. Packed with pure color pigments, its lusciously creamy, conditioning formula promises a never-before combination of color, shine and comfort that last and last."
Doesn't the description make so much more sense when they're called the
ApocaLIPS
?? Ugh, whatever. That's a lot to promise, don't you think? So did I. Here's the breakdown: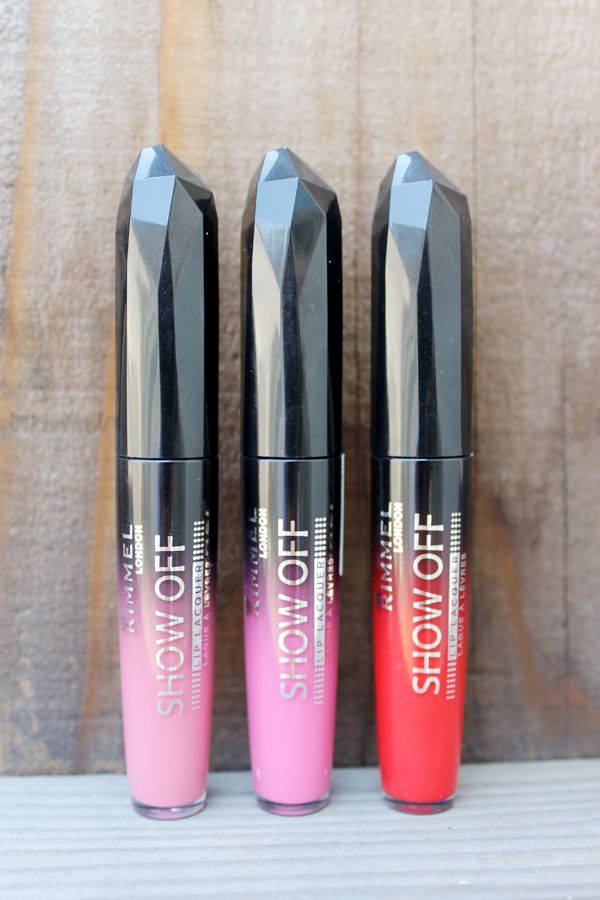 (Left to right: Celestial, Nova, Big Bang)
(Celestial)
(Nova)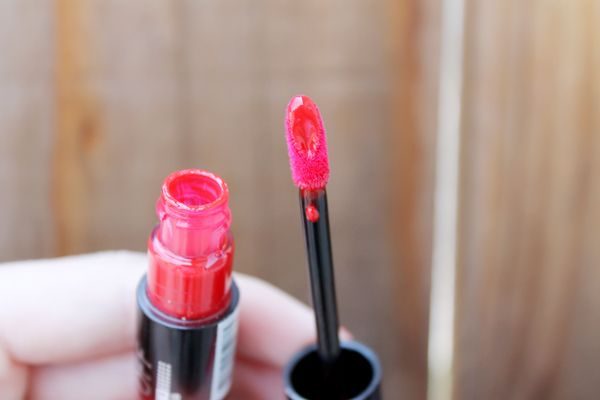 (Big Bang)
(Left to right [sun]: Celestial, Nova, Big Bang)
(Left to right [shade]: Celestial, Nova, Big Bang)
Color options:
14, ranging from nudes to some statement pinks and one
on fire
red. I tried to get one from every group. Celestial is the most "my lips" color and something I would wear if I just wanted a more neutral lip. Nova is more of the bright pink I'm into lately, without being really out there. And of course, I had to get Big Bang (I think this red is their money maker).
Opacity:
So opaque, people. If you're looking for a sheer wash of color, this is not the product for you. What you see on my hand is the opaqueness that you get. Another tidbit is that the applicator has a unique divet that stores a little extra product. The result is that I really only need one dip in the tube to cover my lips entirely.
Long lasting:
These last a decent couple of hours, barring meals and the like. Some of them stain more than others, too, but they all leave a little something behind. Celestial faded back closer to my lip color and big bang left a more significant hot pink/red stain that required a makeup wipe to remove.
Overall:
They're living up to the hype pretty well. I know it's good when I want to go buy more colors, just to have them. These guys have no sticky gloopy feel that you get with a lot of glosses, and you get the color impact of a serious lipstick. I think my only drawback to these would be the smell. It's not horribly offensive, but just a little "cheap sweet" that is not my favorite. It doesn't linger, though, so it's something I can overlook considering all the positives this product has.
Price:
Between $4.99 and $5.99 at various drugstores and Ulta.
For real, though: I wrote this review on my own accord, with products I purchased on my own. All the opinions are my own and done just because I enjoyed it.