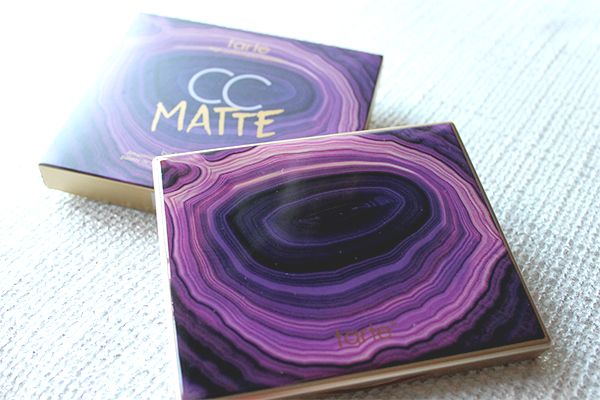 Tarte is a wonderful, wonderful makeup line that is slowing pulling money out of my wallet. I'm already a fan of their "BB" tinted moisturizer, their amazonian clay blushes, their tinted primer, the works! But I've yet to purchase any eyeshadows, mainly because I'm not that adventurous and I feel like my Urban Decay naked palettes serve me just fine. However, when this new Be MATTEnificent palette came out with a huge launch of other 2014 Tarte products, I new I was gonna buy it.
Okay, Ryan bought it for me. But I bought dinner, so.
From Tarte's
website
:
Our first ever all matte palette features 8 new limited-edition eyeshadows and 1 blush in universally-flattering shades for an endless variety of everyday looks. Amazonian colored clay mattifies as it helps control oil for better application, longer wear and truer color that won't fade, crease or budge. Color-correcting Amazonian colored clay brightens, evens and soothes skin on the cheeks and eyelids while the velvety formula glides on smoothly without settling into fine lines.
First,
The packaging
. I don't think I have typical packaging taste. Some of it looks so overdone and it makes me wanna barf. But I don't wanna barf on this, it's beautiful. The MATTEnificent palette is, you guessed it,
all mattes
. It contains 8 eyeshadows (2 are meant to be used as liner), a new blush color, and a double ended eyeshadow brush. Also take note of the very large mirror inside. There is no wasted space in this palette, that's for sure.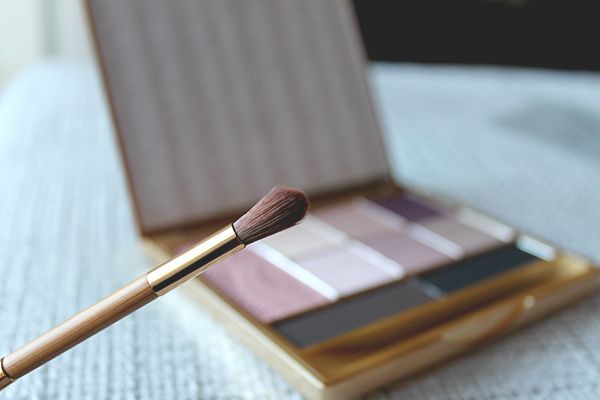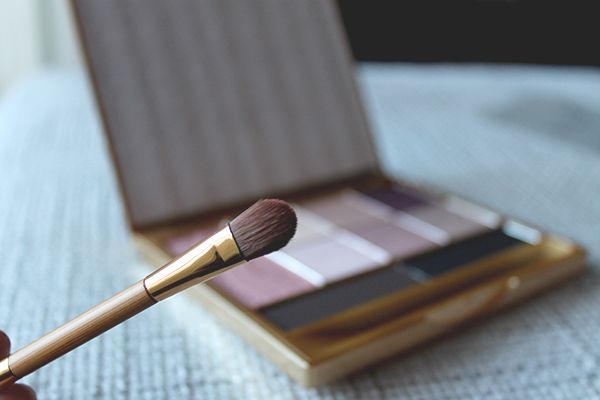 Far left:
Amazonian Clay 12-hour Blush in 'Elevated'.
Middle, top:
Amazonian Colored Clay Eyeshadows in 'Sand Out of the Crowd', 'Peach for the Stars', 'Two Plums Up'
Middle, bottom:
'View from the Taupe', 'Rose to the Occasion', 'Pink Outside the Box'
Far right:
Amazonian Colored Clay Liners: 'Dream in Chocolate' (top), 'Don't Stand Black' (bottom)
The colors in this palette remind me of the Naked Basics palette, if it had a slightly more purple-y...taupe-y..pink-y cousin. I personally think these colors work great with my NW15 skintone. All my pale cool sistahs, take note! The eyeshadows are very nicely pigmented, and easy to make into an everyday look or something more dramatic. And as far as the actual clay goes, Tarte claims:
Colored clay: specifically addresses individual skin & complexion concerns
- Rose clay: soothes sensitive skin around the eye area
- Vanilla clay: helps control oil to keep pigment in place all day
Now personally, I can't attest to that. Those kinds of things just go unnoticed by me. I have pretty oily lids, but I wear a primer so I can't say that these shadows offer any special oil control. But hey, it's a nice thought! I basically love everything in this palette, save for the clear slip that sits on top of the product and is the only thing that indicates the color names. C'mon,
I'm going to lose that
. I think this is a great palette for traveling light. It's nice and compact for all the products in contains, and the lid snaps firmly shut so you won't worry about it busting open in your bag.
Oh, and Cooper approves of it, too.
Price:
You can pick it up for $36 at your nearby
Ulta
or
Sephora
, as well as online at
Tarte.com
. For 1 blush, 8 eyeshadows and a double ended (
usable
) brush, I'd say that's a fantastic deal.
This is just a glimmer of the new Tarte products in the Spring 2014 collection. Have you guys gotten anything yet? How do you like it? I personally am eyeing the
colored clay CC primer
and the
collector's-edition super size maracuja oil
. A girl can dream, right?
For real, though: I wrote this review on my own accord, with products I purchased on my own. All the opinions are my own and done just because I enjoyed it.