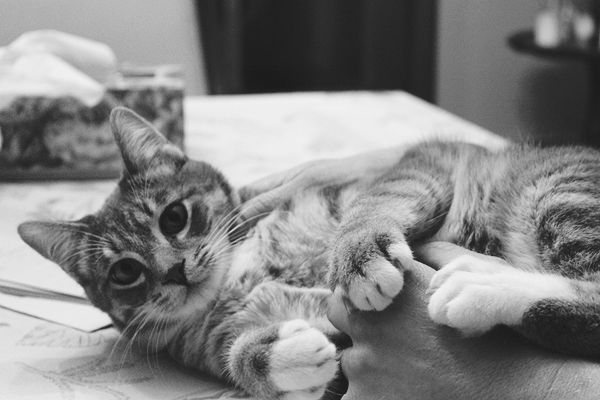 Blogging is an awesome thing. Reading about other people's lives is inspirational and motivating and plain good old fashioned fun.
Okay but let's be real. Reading other people's blogs can sometimes be equal parts inspirational and "wow their life is so fabulous
why isn't my life as fabulous what am I doing
???!" yes? Hey, it happens. I am secure enough to admit that I get insecure! It's natural to feel that way sometimes when all you see of people's lives are wonderful adventures eating wonderful food and buying wonderful things.
So in the interest of being honest, I wanted to post a little something today to remind myself (and anyone reading this), that we're all awesome even if we're not picture perfect all the time.
IT'S OKAY THAT...
...
MY CAT IS THE DEVIL
Is Cooper cute to look look at? Sure! Is he hilarious? You bet! Is he basically a jerk 70% of the time? Yes! But it's okay, he's just a kitten. He can't be demure cat all the time. That'll come eventually, and for now I get to deal with raging kitten who thinks my arm is a sibling to wrestle with.
...
LITTLE CESAR'S HOT 'N READY IS MY GO-TO DINNER
So maybe I don't cook my meals every single night using the freshest ingredients from scratch, wanna fight about it? I would love to have the time/energy/money to try out new outrageous things every night, but most evenings I come home from work and I'm tired and I just. want. food. I swear I have singlehandedly kept Bertolli in business for their Chicken Florentine & Farfalle dinner for two.
...
I GET SUPER AWKWARD POSING FOR BLOG PHOTOS
"Hey boyfriend, can we stop what we're doing so I can pose by myself for a bunch of photos and try to look as inconspicuous as possible while doing it? Thanks!" Enough said.
...
I AM TOO LAZY TO DO A LOT OF THINGS
I would love to DIY my entire live but
ugh it's so much effort
. This is kinda why my resolution this year is to do more, because I have a history of buying the supplies to do something and then choosing to be lazy instead. We all procrastinate, even if it's something we actually wanna do.
...
I DON'T HAVE THE PATIENCE FOR NAIL ART
Kudos to you if you do it. If it requires more from me than waiting for a max of three coats to dry, I can guarantee I'm gonna wipe it all off in less than an hour and be angry.
Who's with me on some of these? Huh? ... Hello?
... Anybody?